I have no letters of my own this week. I do, however, have a rather lovely old postcard which I wanted to share, and seemed appropriate for Dear So and So. Also, I was rather hoping one of you might be able to read it and/or translate it for me! I've tried my best to make out what it says and run it through Google Translate but, as you can see, the writing is a little hard to read!
This is the postcard I picked up (for 50 cents!)
And this is the writing on the back:
I read it as something like this:
Je croyais je pouvoir aller ou perme et come sa ma passe je vais le bee je ne peu pas autre anypersonne que je sois an carto parmi vous, quelque tu veu il faus je contented je peu on se monde je sois une casdiole poigne se micin tow
Which Google translates as:
I thought I could go with permits and come its my password I will notbee I do not anypersonne another year that I am mapping among you, some you seeing it I FAUS I contented little world we casdiole I am a fist to tow micin
So, thoughts? Help?! Even if I don't get it translated I still love it, but it'd be nice to know what it said!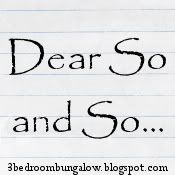 This, rather belated, post was brought to you by Dear So and So, hosted by Kat over at 3 bedroom bungalow.